Box
5.3.4
Free Cloud Storage – Smart Way to Store Your Data
Are you facing a shortage of storage space for your data? Do you want to store your files in the cloud? If yes, then this free cloud storage app can come in handy for you. Box is a cool app that gives you the chance to store all of your data in the cloud and access it anytime you want. It allows you to upload files from any of your devices to its servers where they will remain safe and readily accessible whenever you need them. You will just need an internet connection to access the files you have stored on the cloud. Since multiple types of files can be uploaded to the cloud using this app, you can store all of your data conveniently without the need of any hardware.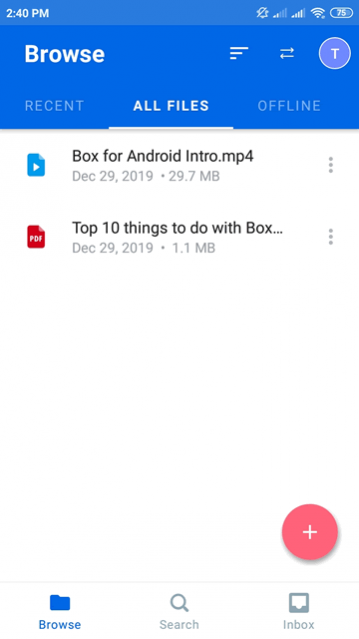 Box has a simple user interface and a user-friendly design and layout. These features make this free cloud storage app very easy to use for one and all. However, before you start uploading files to the cloud via this app, you will be asked to create an account. The process of creating an account is a simple one and doesn't take much time. You just need to provide your email ID along with a password to set up your account. A verification email will be sent to the email ID you have provided to verify the email ID. You will have to follow the instructions in the email to get your email-ID verified. After this, you can begin storing your data on Box.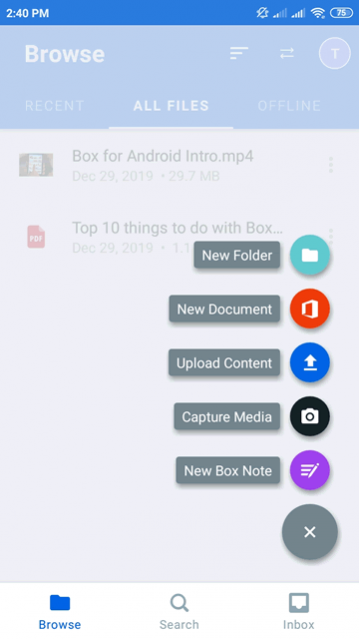 This free cloud storage doesn't charge you anything for storing your data. However, the free account has a limited storage space of up to 10GB. Box allows you to store various types of files on the cloud. To store a file, you need to upload it to the app from the device you are using. Once a file is uploaded, it will be stored on the cloud. Only you can access the file and anyone whom you permit to access it after it has been uploaded to the app. So, the safety of data isn't a concern with this free cloud storage app. Also, you can place files inside folders as well. This helps in organizing the data and ensuring that you can access it quickly when needed.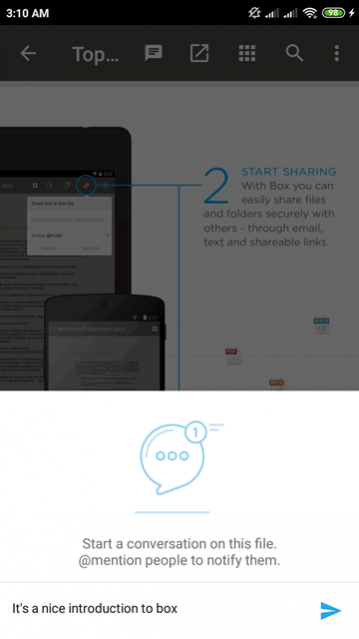 Box doesn't just allow you to upload and store files on the cloud. It also lets you create files and even make edits to the stored files. For creating new files, this free cloud storage app allows you to choose any of the apps available on your device. To make edits, you can simply open the file and begin making changes. However, do keep in mind that only people who are given access to the files will be allowed to make the edits. The edits can be made in the form of comments that can be added to the files.
Features:
Simple user interface
User-friendly design and layout
Easy to use
Upload files to the cloud
Open multiple types of files
Access files from any device
Invite others to access the stored files
Comment on files stored on the cloud
Create and edit files on the go
Conclusion:
Box is an app that is ideal for people who deal with a lot of data and want a storage medium that is both shareable and easily accessible. It lets them store all of their data safely to the cloud and access it from any device they want from anywhere in the world as long as they have an internet connection. It is an excellent app that offers free cloud storage and you should have it on your phone.
---
Add a review
Tell us your experience with
Box
5.3.4
RELATED PROGRAMS
Our Recommendations
---
---
---
---